If you aren't familiar with the Steam Punk genre, it is science fiction that incorporates technology inspired by 19th-century industrial steam-powered machinery. One of my favorite retro Disney movies, 20,000 Leagues Under The Sea, is a great example. I took a stab at it with a few fun pieces. Metal Arrow Sign $1600. 24"x36"x2"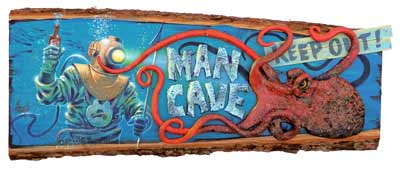 MAN CAVE SIGN
Raise a beer with this brave retro deep sea diver and 3D octopus.
Sign measures 24"x 9"
Clay on pine board by Jim Mazzotta
$375