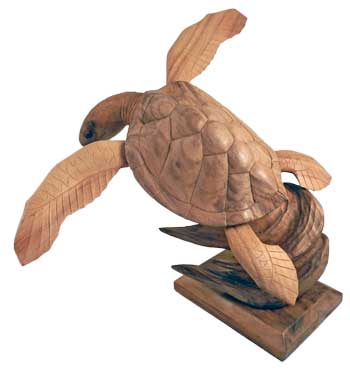 TUNA ATTACK!
An exciting stainless steel wall sculpture consists of 3 hanging sections that can be arranged to your liking. Airbrushed with transparent enamels and then sealed with gloss lacquer. Approximately 48" wide as bait fish and Tuna duo can be hung in different positions.
by Mark Malizia $1200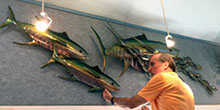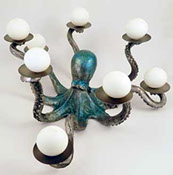 OCTOPUS CANDLEHOLDER
A most unusual sculpture that will be an eye catching centerpiece for any home.
Approximately 17" X 20" wide as this undersea creature extends its tentacles outward with flickering candles. Cast in resin and hand painted.
by Contrast Studios $195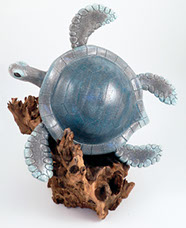 DRIFTWOOD TURTLE
Hand sculpted in clay, the turtle is fired in the Raku process. The Raku firing imparts a gentle crackled glaze on the turtle's shell.
Perched on a beautiful piece of driftwood it is approximately 18" high X 15" wide.
by Nolan Windholtz $375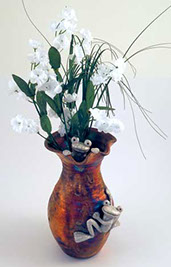 PEEPER VASE
Hand thrown on a potter's wheel in clay, 2 small frogs adorn a vase that is fired in the Raku process. The glaze is a rich blend of metallic tones ranging from coppers to deep blues.
Suitable for dry arrangements only.
Vase is 9" high.
by Nolan Windholtz $175
SWIMMING TURTLE
Hand carved in hardwoods, a loggerhead turtle swims dramatically forward atop a carved swirling wave. Flippers detach for shipping.
Approximately 21" high X 26" wide.
by T.I. Design Studios $625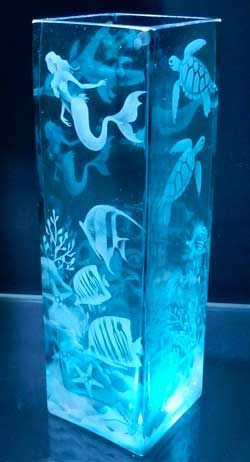 SEALIFE VASE
Hand etched on a blown glass vase, a myriad of sea creatures fills each side of this expertly rendered piece. Mermaids, turtles, angelfish, dolphins and more.
Vase is 10" high.
by Jaguar Glass $110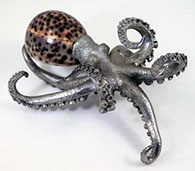 COWRIE OCTOPUS
A highly detailed octopus curls realistic tentacles and sports a real cowrie shell as his head. Cast in pewter, approximately 7" long X 3" tall.
by Contrast Studios $475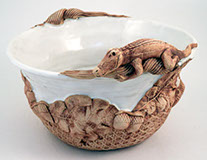 GATOR BOWL
This Florida artist couple creates a wonderful variety of functional wildlife bowls in hand sculpted porcelain. Lots of wonderful detail with leaves and acorns wrapping around a heavy duty, oven safe bowl. 11" in diameter.
by Karen and Leo Villaroman $120
BALD EAGLE
Hand carved in reclaimed American Chestnut. The self taught artist utilizes wood formerly part of old homes and bridges.
Approximately 31" high.
by Lance Lichtensteiger $3100