s you safari in Jungle Drums Gallery, prepare to experience an unforgettable collection of wildlife art. Serious collectors as well as admirers of beautiful art will be impressed with a broad diversity of work and price range.
From life-size bronze sculptures to elegantly crafted jewelry, each piece offers something different. The gallery is more than a place to buy art; it's a visual delight to experience and a refuge to appreciate the tremendous diversity of wildlife.
A stunning variety of art mediums is presented that includes bronze, copper, wood, glass, clay, original paintings, limited edition prints and more. Our drums are beating out a message of environmental conservation as well as appreciation of the arts that we hope will be heard far and wide.
- Owners/Artists Kathleen & Jim Mazzotta
An artful menagerie thrives in our Captiva jungle where you'll find rooms full of eye catching creations from local, national and international artists.
Follow us on INSTAGRAM as we post our latest artwork. Click on pix at right.

WINTER ON THE ISLANDS
We're off and running into a new year already with new art to usher in 2019. Check out our new retro hand painted suitcases below. Turtle suitcase in progress at left. Cool stuff indeed!
Current gallery hours are Monday - Friday 11:30 am - 5:00 pm, closed weekends. For the most up to date operating hours call 239-395-2266 for the latest info. Kathleen and Jim often need time in the studio for painting and creating.
In the meantime, you can check out our website with loads of new items. Check back on a regular basis as we add brand new pieces. Also join us on Instagram (located at top of our page here) as we post gobs of photos of art currently underway.
AN AWESOME ART EXPERIENCE ON CAPTIVA ISLAND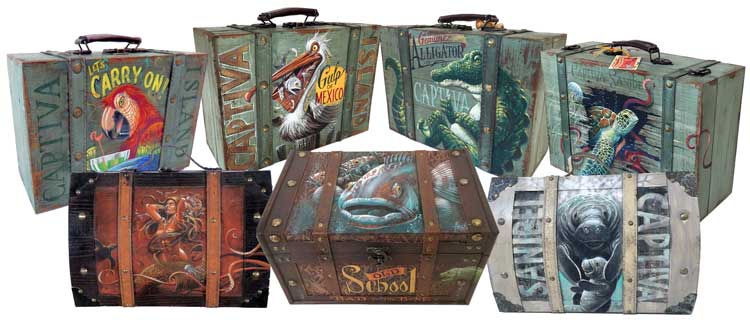 We're introducing our brand new line of hand painted retro luggage known as the Lost Luggage Collection. They're perfect for the paradise traveler who loves sand between their toes. Expertly painted by Jim Mazzotta, each one is a true work of art that can hold all your island necessities like flip flops, sun tan lotion, mosquito repellent, etc. Or just put em display and enjoy as is.
Sizes and styles varies. Prices start at $110 for these beauties. Call or email for other designs as they are created. So leave your old baggage behind and start carrying on in island style.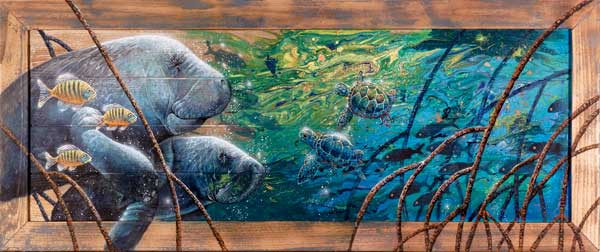 FEATURED WORK by Kathleen & Jim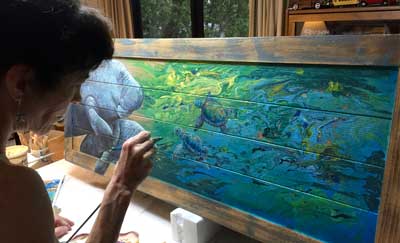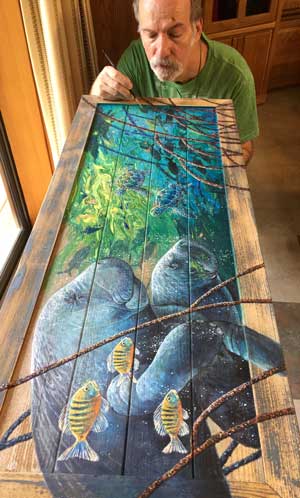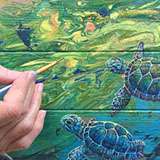 MANGROOVIN' TABLE
One of our latest efforts is a 4 foot long rustic table featuring manatees and turtles. Our technique includes a lot of airbrushed acrylic paint along with standard brush work to tighten up edges and detailed areas.
Metallic paints and other refractive materials are used in strategic areas to enhance the illusion of shimmering water. The table top has a rough finish which adds to the depth and texture of the final painting. A final coat of gloss polymer epoxy coats the art which gives the piece the ultimate underwater look.
Kathleen airbrushes soft tones on swimming baby turtles.
Jim adds detail to mangrove roots jutting out from the main art giving the image a stronger 3D effect.
The final Mangroovin' table top ready for its closeup! It features 2 hand carved drawers.
Available for $3800. Measures 40" long x 16" wide x 31" tall.