During quarantine we kept ourselves busy with a very large commission: a sealife illustration on a custom made seven foot long table from North Carolina!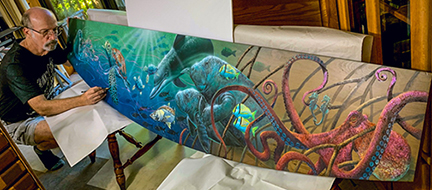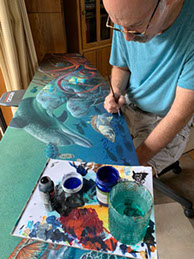 A base coat of several airbrushed color gradients is applied that will provide the feel of an underwater habitat.
Jim and Kathleen play hopscotch filling in the sea creatures. After Kathleen wrapped up the manatee duo, Jim jumped in and works on a Tarpon.
Once all the critters are painted then the final atmospheric touches are added such as mangrove roots, light rays filtering through schools of bait fish and lots of little fishy bubbles. Some metallic paint is added to add luster to the jellyfish and other swimmers. A final coat of heavy gloss is added, giving the whole image the illusion of being under the sea!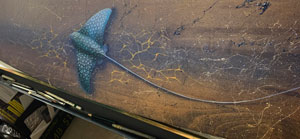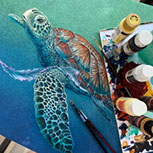 The lower table shelf sports an Eagle Ray.
"SEALIFE COLLAGE" ENTRY WAY TABLE