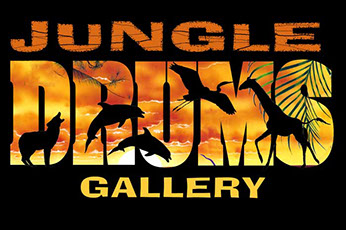 s you safari in Jungle Drums Gallery, prepare to experience an unforgettable collection of wildlife art. Serious collectors as well as admirers of beautiful art will be impressed with a broad diversity of work and price range.
From life-size bronze sculptures to elegantly crafted jewelry, each piece offers something different. The gallery is more than a place to buy art; it's a visual delight to experience and a refuge to appreciate the tremendous diversity of wildlife.
A stunning variety of art mediums is presented that includes bronze, copper, wood, glass, clay, original paintings, limited edition prints and more. Our drums are beating out a message of environmental conservation as well as appreciation of the arts that we hope will be heard far and wide.
- Owners/Artists Kathleen & Jim Mazzotta
Follow us on INSTAGRAM as we post our latest artwork. Click on pix at right.

FALL UPDATE
Lots of exciting art pieces are in the works like the brand new Jellyfish/Turtle Table shown at left with Jim airbrushing.
NOVEMBER hours will be Tuesday - Friday 11:30 - 4:30 pm, closed weekends and Monday. Kathleen and Jim will be in the studio painting and creating.
In the meantime, you can check out our updated website with lots of new items. Check back on a regular basis as we add brand new pieces.
Also join us on Instagram as we post lots of photos of art currrently underway.
AN AWESOME ART EXPERIENCE ON CAPTIVA ISLAND
An artful menagerie thrives in our Captiva jungle where you'll find rooms full of eye catching creations from local, national and international artists.
By Kathleen & Jim Mazzotta
View Kathleen and Jim's collection for both originals and reproductions available in a variety of mediums.
Curated selections as of SEPT. 2018
Safari with us as we point out the latest from other artists in our collection at Jungle Drums.
Latest update SEPT. 2018
Get an inside view of our works in progress before they join the gallery! New art is always coming out of our tree top studio.
LIMITED RELEASE CHRISTMAS CARDS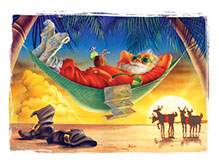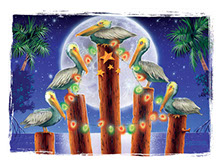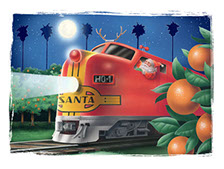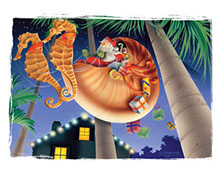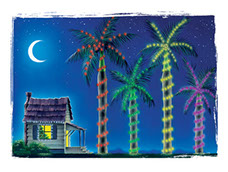 We've been doing our own Christmas cards since the early 1980s. After moving to Florida we realized it was a challenge to find unique tropical holiday greetings to send back north to our jealous friends and relatives. What to do? Make our own!
We each begin a design, take it to the halfway point, then swap and finish each other's illustration. This technique led to where we are today in the creative process collaborating on many projects such as the Manatee table shown below.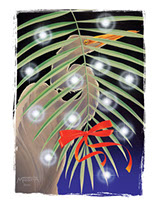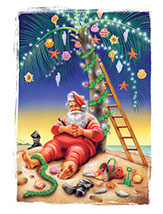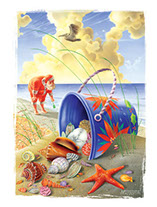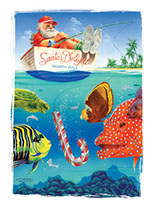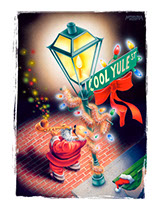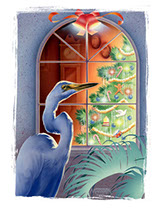 Each card is printed on high quality luster card stock and hand glittered by Kathleen and Jim. Each card contains a sentiment inside with envelope. $7.95 each. Available individually for limited time only so order soon!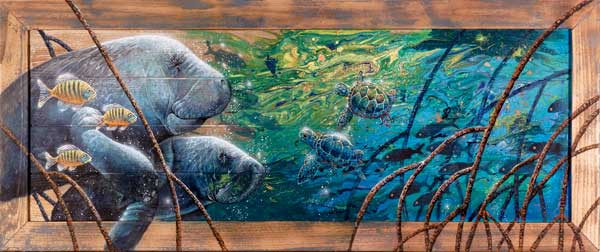 FEATURED WORK by Kathleen & Jim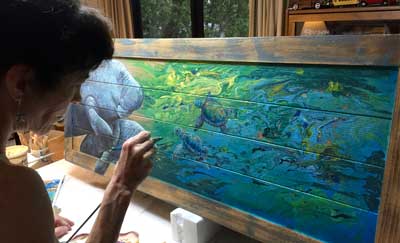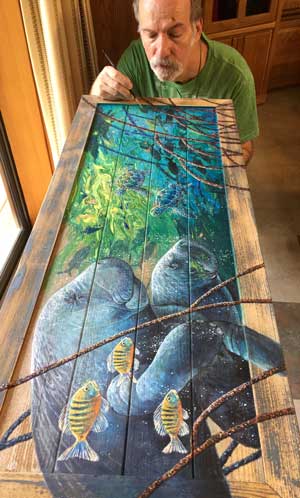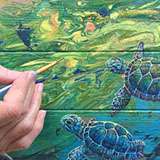 MANGROOVIN' TABLE
One of our latest efforts is a 4 foot long rustic table featuring manatees and turtles. Our technique includes a lot of airbrushed acrylic paint along with standard brush work to tighten up edges and detailed areas.
Metallic paints and other refractive materials are used in strategic areas to enhance the illusion of shimmering water. The table top has a rough finish which adds to the depth and texture of the final painting. A final coat of gloss polymer epoxy coats the art which gives the piece the ultimate underwater look.
Kathleen airbrushes soft tones on swimming baby turtles.
Jim adds detail to mangrove roots jutting out from the main art giving the image a stronger 3D effect.
The final Mangroovin' table top ready for its closeup! It features 2 hand carved drawers.
Available for $3800. Measures 40" long x 16" wide x 31" tall.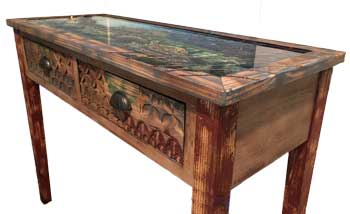 NOVEMBER 2018 GALLERY HOURS: 11:30 a.m. - 4:30 p.m. TUESDAY - FRIDAY. CLOSED WEEKENDS & MONDAY
Operating hours may vary as we are working artists and creativity can happen at any time! Call 239-395-2266